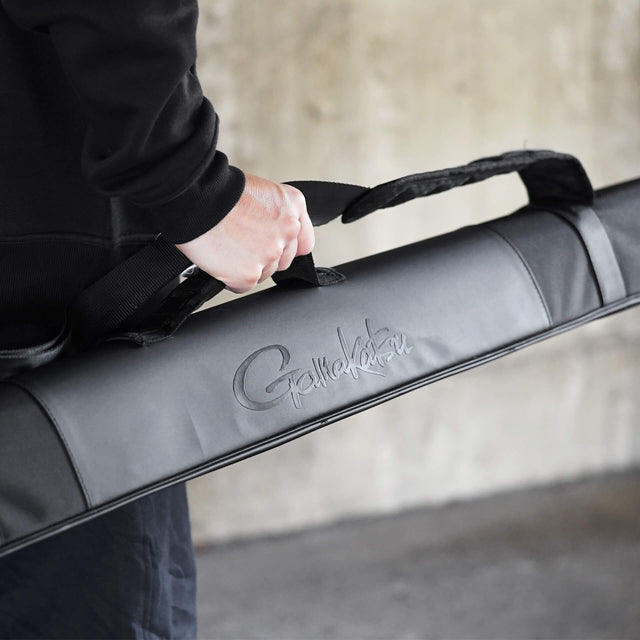 The Gamakatsu G-Rod Case Slim are premium rod cases ergonomically designed to be carried over the shoulder or via the integrated handle. The Rod Cases are available in either 150 or 160cm in length, ideal for storing any Gamakatsu spinning rod. Included in the rod case are 8 x Gamakatsu neoprene rod bands for keeping up to 4 x rods organised together.
Balanced
The rod case's handle grip is perfectly balanced when fully packed.


Shoulder Strap
The Gamakatsu Rod Case can be comfortably carried over the shoulder when travelling longer distances to your spot.


Storage / Neoprene Rod Bands
8 x Gamakatsu branded neoprene rod bands are included in every rod case. Ideal for keeping your rod sectioned together and organized. Up to 4 x Rods (without reel) can fit securely within the rod case.
Product Overview

Materials
- Made from heavy-duty Nylon 1650D.
Key Features
- Carry Straps: Features a durable and padded shoulder strap and carry grip.

- Durable: Made from heavy-duty Nylon 1650D.

- Rod Bands: Includes 8 x Gamakatsu branded neoprene rod bands perfect for keeping rods sections organised together.

Dimensions: 150cm Version
- Height:13cm
- Length: 150cm
- Width:17cm

Dimensions: 160cm Version
- Height:13cm
- Length: 160cm
- Width:17cm

Weight
- 6207-400 (150cm) Total Weight: 1.59kg
- 6207-500 (160cm) Total Weight: 1.79kg

Gamakatsu Luggage Overview
G-Rod Case Slim